If your child has a C- average in school, it's not great news but also not the worst. It probably means the child is doing well in some areas but not in others, and it shows there's lots of room for improvement.
The same is true for the upper Raritan River watershed's grade on the most recent water quality "Report Card" compiled by Raritan Headwaters Association (RHA), the region's nonprofit watershed watchdog.
The network of dozens of streams flowing into the North Branch and South Branch of the Raritan River – all in Hunterdon, Somerset and Morris counties – scored an overall C- on stream quality during monitoring conducted in 2020.
"Because we are the headwaters of the Raritan River and the source of drinking water to 1.8 million people in New Jersey, our goal is to strive for an A or B in all areas," said Dr. Kristi MacDonald, RHA's science director.
"This report card tells us that we need to focus on protecting forests and riparian buffers, controlling stormwater by limiting impervious cover and installing green infrastructure, applying best management practices on farms, and increasing the resilience of our communities to climate change," she added.
The report card was released on March 20 at a virtual meeting of dozens of trained citizen scientists who help the Raritan Headwaters staff collect stream quality data.
"All water is connected – whether it's drinking water, wastewater or stormwater," noted Maria Berezin Dowling, RHA water scientist. "We need to think about water in a holistic way."
How stream health is graded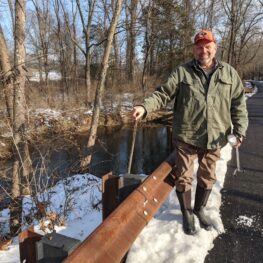 Raritan Headwaters staff and volunteers assess stream health in several ways. First, they conduct chemical monitoring, in which they measure the stream water's temperature, dissolved oxygen, pH, phosphorus, nitrates and "specific conductance." Specific conductance measures how well the water conducts electricity, an indicator of how much salt is present.
They also do a visual assessment: Is the water clear or cloudy? Are there rocks and gravel at the bottom? Is there muddy sediment surrounding rocks? Are there riffles to add oxygen to the water? Do stream banks have trees and vegetation to help shade the water and filter impurities from rainwater draining off the land? Are the banks eroded?
Finally, they assess a stream's health by the aquatic organisms living there. Specifically, they survey for "benthic macroinvertebrates," small spineless creatures that live at the bottom of streams. The presence of certain macroinvertebrates that can't tolerate pollution – for example, stonefly, mayfly and caddisfly larvae, water pennies and hellgrammites – indicates that the water is exceptionally clean.
The good news on the report card is that most of the stream sites monitored by RHA scored an A for temperature, dissolved oxygen, pH and low nitrates. Many fish, especially trout, need cool, oxygen-rich water.
The bad news is that many sites received an F for specific conductance, indicating that the overuse of road salt in winter may be a factor; and an F for high phosphates, which can come from agricultural fertilizer.
Degraded habitat in several locations also led to low scores. "There are a lot more failures than there are passes," said Dowling. For example, a site next to a bridge construction project had bare, muddy banks with all vegetation removed.
Also lowering the overall score is the survey of benthic macroinvertebrates. Pollution-sensitive organisms were absent from many sites, an indication of declining stream health.
What can you do?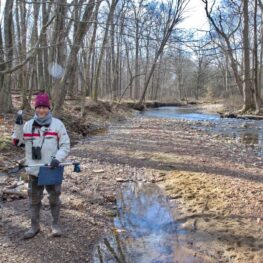 Fortunately, it's possible to help local streams improve.
"Most of our stream impairments are due to non-point source pollution, meaning pollution that comes from our homes, our backyards, and our businesses. Non-point source pollution can be effectively managed by local community leaders and municipalities," said Dr. MacDonald. "Every member of the community has a part to play in protecting the watershed."
Here are some actions that local residents and municipal governments can take:
Plant and maintain trees and shrubs along rivers and streams;
Maintain healthy forests to absorb and filter stormwater;
Limit the use of fertilizers, pesticides and road salt;
If you have a septic system, get it pumped out every three years;
Install rain barrels and rain gardens to slow stormwater runoff;
Get involved with your town's Environmental Commission and Raritan Headwaters;
Check out RHA's online "Watershed Protector Hub";
Consider working toward "River Friendly" certification for your home, school or business. Find out more.
To learn more about the annual stream health report card here. The interactive map provides detailed information about the many sub-watersheds within the upper Raritan River watershed. A sub-watershed may center around a particular tributary stream or brook.
About Raritan Headwaters
Raritan Headwaters has been working since 1959 to protect, preserve and improve water quality and other natural resources of the Raritan River headwaters region through efforts in science, education, advocacy, land preservation and stewardship.
RHA's 470-square-mile region provides clean drinking water to 300,000 residents of 38 municipalities in Somerset, Hunterdon and Morris counties and beyond to some 1.5 million homes and businesses in New Jersey's densely populated urban areas. To learn more about Raritan Headwaters and its programs, please visit www.raritanheadwaters.org or call 908-234-1852.